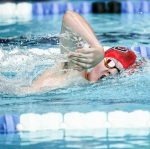 What Memberships do we offer?
At Preston Swimming Club, we offer three types of memberships all of which give you affiliation to Swim England and the relevant regional organisations as well as membership to Preston Swimming Club. Memberships run from 1st January to 31st December and will need to be renewed each year which we will communicate to you.
Category 1 - for those learning to swim or developing their technique without wanting to compete in open competition.
Category 2 - for those looking to compete in open competitions in any discipline
Category 3 - for those not covered by category 1 or category 2 membership. All members under the age of 18 or required to have an associated parent/guardian membership.
What does my Membership include?
As well as giving you access to Preston Swimming Clubs pool time, expert coaching and social events, your membership covers all your required protection and insurance as well as giving you access to exclusive discounts and offers along with exclusive member content such as nutrition, expert advice and training tips.
What does Membership cost?
Due to the recent Covid restrictions and the financial burden that this has put on families, the Club has minimised the cost of memberships for 2021. Please note that these may be subject to change in the future
Category 1 - £18
Category 2 - £36
Category 3 - £14
How does the renewal process work?
Membership renewals are now completed through your Swim Club Manager profile and the process will be sent out by the Membership Secretary before membership renewal is due in the January of each year.